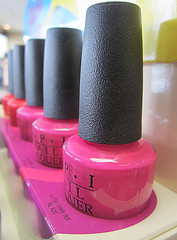 Do you have nail polish bottles crammed in your bathroom drawer? Maybe they're piled in a bowl that you have to dump out every time you want to find a certain polish? Or maybe you just want a prettier way to organize and show off your nail polish collection? If any of these situations sound familiar, then this is the right place for you! I have reviewed types of nail polish racks, what to look for in a rack and what the highest rated rack brands are.
Benefits of Nail Polish Racks:
Stay organized so you can save time by quickly finding polishes
Free up much needed drawer space by keeping your polishes in line
Find buried colors you forgot you even had and get inspired
Create an elegant and calming spa feeling in your bathroom
Types of Racks
Racks can vary in size, color, material, price and reliability so it can be overwhelming to choose which one is the best fit for you. The most common types of racks for home use are hanging racks and counter racks, but standing racks are also being used by nail polish fanatics! I have explained the differences between metal & acrylic racks as well as created Top 10 Nail Polish Rack Brand guides to help you navigate the rack world!
Metal Racks
Metal racks are very sturdy and many models have beautiful wrought iron carvings with swirls and other designs to create truly beautiful nail polish racks. If you buy a metal rack, it might be your last because they last so long and are so reliable.
Acrylic Racks
Acrylic racks are typically very sturdy clear racks that look very professional. Since the acrylic style is so minimalistic, it really accentuates the bold colors of your nail polish collection. It also gives you the opportunity to add your own flare by picking your favorite pattern on scrapbook paper, wallpaper or wrapping paper and placing it behind the rack. These racks tend to also be less heavy than wood or metal which makes it easier to hang… you could even hang it on the back of a closet door if the model you pick is light enough! Be wary of really cheap acrylic racks because they will probably start cracking and won't last long.
Best Wall Hanging Acrylic Nail Polish Rack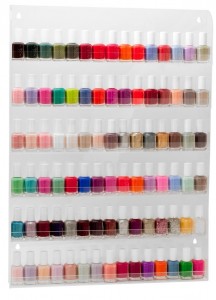 This rack
has been given high reviews from salon owners, so you know it's good when the pros are using it in their salons and loving it! For a relatively cheap rack, this one is very sturdy and holds 90 bottles of nail polish. The rack comes in two pieces with a small topper piece that says "polish station" in red. You can choose to throw this away or include it on your rack. It has a plastic bar on each row to keep the bottles from falling out and the width is the right size to prevent polishes from going all over the place! The only slight downside of this rack is you can sometimes see where the glue dried on the back because it is clear acrylic (but this is not very noticeable once all the polishes are in the rack!)
Price: $26.50
Capacity: 90 bottles guaranteed – but most people can fit upwards of 95 -100+. The capacity really depends on what type of nail polish brands you are storing because the bottle sizes and shapes differ. Here are how many bottles you can fit per row for each type of brand:
Bottles Per Row by Brand: 
Butter London – 13 (place them facing forward)
Butter London – 16 (place them diagonally)
Chanel – 17
China Glaze – 14
Deborah Lippmann – 16
Essie – 17
L'Oreal – 18
Marc Jacobs – 9 (place them facing forward)
Marc Jacobs – 13 (place them diagonally)
Nicole by OPI – 14 (These bottles must be placed sideways because of the shape of the bottle)
OPI – 15 (There is an extra 1″ to spare which 1 bottle of Essie fits in perfectly)
Orly – 15
Pure Ice – 16
Red Carpet – 17
Revlon – 15
Revlon Colorstay – 17
Sally Hansen Xtreme Wear – 19
Sally Hansen Complete Manicure – 14
Sally Hansen InstaDry – 14
Sensational GEL polish – 20
Installation tips: A top benefit for this rack is that it is so easy to hang! It is light weight so it is light enough to hold with one hand while using the other hand to mark spots on the wall to put the nails/screws in. Many people have been able to use only 2 nails or screws to hold it in place and it's worked just fine for them. I recommend that you use all 4 holes in the rack to really secure it. If you're filling it up completely with nail polish then it's a smart move to use anchors for more support, especially when you're hanging it on drywall. You don't have to use an electric drill, but it does really make the process easier. You can also use rubber washers to prevent over tightening the screws. Don't expect it to come with all the mounting hardware. You will need to use your own drill, hammer, screws, anchors, etc.
Dimensions: The racks are handmade so sometimes they can vary just a fraction of an inch on the dimensions, but most of the time they are very accurate to the dimensions below:
24.5″ Length x 20.5″ Height x 1.75″ Width
6 Rows
15 Bottle per Row
Best Wall Hanging Metal Nail Polish Rack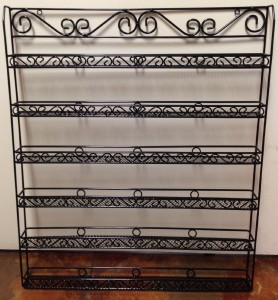 This is a truly elegant and high quality rack
that will last you a very long time. It is welded very nicely, has a thick coating and beautiful gloss finish. The rack has beautifully designed bars on the front of each row to keep the bottles in place. Many salons have given this rack the thumbs up! It is meant to be hung but you can stand it up against the wall if you like, it will just be way less sturdy. The sellers offer great customer service and ship very quickly!
Price: $32.99
Colors: This rack comes in a variety of colors: White, Black, Silver, Blue, Red, Gold, Pink, Purple and Green.
Capacity: This rack will support 90-100+ bottles depending on the brands of polish you have. If you have mostly full size round bottles, then this rack will only hold around 90 bottles. It will fit all of the popular brands, but you might have to place brands with larger bottles like Butter or Nicole by OPI in sideways.
Installation: This rack is very easy to hang and it goes up quickly! It comes with two screws for wall mounting, and most people are fine using just those 2 screws. You can always add more support if you choose.
Dimensions: 21″ Length X 25″ Height X 1.8" Width
6 Rows
15+ Bottles per Row
Find The Best Nail Polish Rack For You
Table Display Racks
Wall Hanging Racks
l
How To Install Your Nail Polish Rack
This is an amazing video to learn how to install your rack after you purchase it! Andrea does a great job of explaining the process and showing off her beautifully organized collection!
http://www.andreamatillano.wordpress.com/
How to Organize Your Nail Polish on The Rack
There are so many ways you can organize your polish on the rack to make it easy for you to pick a polish when you are doing a DIY manicure. Organizing by color is the most popular way – from dark to light or vice versa. Another idea is to separate the polishes by brand so you have OPI in one section, CND Shellac in another, etc. It's also convenient to have your polishes separated in sections depending on the type so you have gel in one section, glitter in another, matte polish in another and so forth! Just a few ideas to help you line up the polish once you get your rack! Happy Organizing!
Where to Hang Your Nail Polish Rack
If possible, it is best to avoid hanging your rack in an area of the room that receives a lot of sunlight. Prolonged exposure to the sun can decrease the quality of nail polish and how long it will last you. Bedrooms, bathrooms and closets are the most common places where racks are hung.
Photo by Faye✩ Mous