Halloween, raves, Las Vegas…. so many reasons to rock glow in the dark nail polish for a night out! If you want glowing nails, checkout the best brands below.
Best

Glow in The Dark

Nail Varnish and Gel Brands
Here is a great Gel polish that glows in the dark ~ and it's clear, so you can layer over any color! It is recommended to apply 2 coats and cures under an LED or UV lamp. Activating the polish in the sun really turns it on!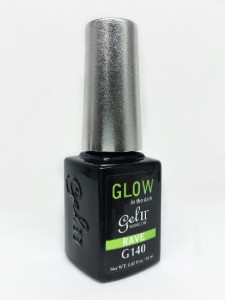 This is such a steal because you can layer it over any other nail polish color or design and it will show through while glowing! It works best with lighter base colors to get the full glow effect.
This is the best bargain for a good quality glow in the dark nail polish. You get 4 different colors in this set:  Neon Orange, Neon Yellow, Neon Blue, Neon Hot Pink. The tops light up too!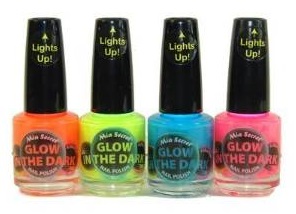 While this polish does not glow in the dark, it is wildly fun if you plan to be partying around black lights!! It has a clear base so you can layer over any color polish to customize your look. This versatile polish has 6 bright neon colors in the shapes or polka dots, stars, and bars glitters and is highly neon in normal light. Two awesome looks for the price of one!

How to Apply Glow in the Dark Nail Polish
1. Apply a white base coat (or color of your choice; experiment and have fun!): This will give  your nails a bright neon glow! Let dry for 5-10 minutes.
2. Apply 2 coats of the glow in the dark nail polish then let it dry completely.
3. Add a great clear top coat and let dry.
4. To activate most all glow in the dark polishes, it is best to put under LED lights or out in the sun.
5. Go out and show off your glowing manicure once the sun sets!