Looking for something different or an edgy new look for your nails? Give your favorite glossy gel or lacquer polishes new life with a matte finish! You can even combine shiny and matte polishes for unique looks guaranteed to receive notice and stand out. Matte manicures been trending for about 10 years, but just a quick search for amazing nail art design ideas on Pinterest will convince you that this is still a popular option to add to your nail repertoire for special occasions.
So, what exactly is a matte finish and how do you achieve it? In very simplistic terms, matte nail polish is the absent of any shine (think flat paint) and there are special matte top coats available to dull the shine from regular shiny polish to create the look. Matte polishes do differ from regular polishes in several ways related to application and wear-ability. I have gleaned the most common questions asked from nail polish aficionados and reviewed YouTube videos to provide an overview to help you.
How can I get a matte finish?
There are basically 2 ways to create the Matte look. First, you can achieve the look by simply purchasing a polish that is specifically formulated as a matte finish that needs only 1-2 coats are a quick option. Sally Hansen Insta-Dri Matte and Zoya MatteVelvet offer some beautiful options but the selections are limited. For more versatility, you can use a special matte top coat over all your favorite polish colors to create the look as well.
Can any gel or lacquer polishes be made matte?
Yes! Special matte top coat polishes can be applied to your natural nails or over your favorite base coat of color. Get creative ~ try it over glitter polish for an interesting look!
How do you apply gel matte polish?
Start with a clean nail bed to remove any oils.
Apply the base gel coat first followed by 2 layers of your favorite shiny color polish in thin layers; curing as usual and then the matte finish last.
Remember to cap the tips of your nails to extend the life of your manicure.
Some polish brands offer No-Wipe feature after curing
How do you apply lacquer matte polish?
Start with a clean nail bed to remove any oils.
Apply polish in thin layers and let each layer fully dry before applying the next coat. Note that matte lacquer polish dries quickly, so it will be important to make sure each layer is dried thoroughly before applying the next layer. Remember that it takes up to 24 hours for lacquer polish to fully cure.
Cap the tips of your nails.
How long does it last?
Depending on the brand, matte manicures can tend to chip faster than regular manicures. Capping your nail tips will help. A common tip I have seen recommended is to apply a regular shiny top coat first over your color polish and then apply the matte top coat to help resist chipping. The cool thing is that a lacquer top coat will even work over gel polishes!
Some matte finishes will begin to wear off within a couple days, resulting in a satin/velvet finish. I personally do not think this is a negative effect as I also like this look as well.
Avoid lotions, oils and cuticle creams that can interact with the matte finish.
When the life of the polish has reached its end, remove the same way you do for any polish.
Ready to go Flat and try Matte?? Here is a roundup of top-rated brands for you to consider. Have fun with this really cool look!!
Ready-to-go polishes
3.6 out of 5 stars 152 ratings (not all reviews were for Matte. However, I filtered the reviews to only the Matte colors listed)
Your favorite quick-dry Sally Hansen nail color is now available in 8 beautiful shades of Matte Metallic finish!
Gold Rush
Rose Flush
Burnished Wine
Violet Velvet
Blue Steel
Smoldering Teal
Smokey Silver
Molten Mauve (shown)
Product Features:
3-in-1 formula with built-in base and top coat
Wide brush application
Dries in 60 Seconds
Extended wear and chip resistant
Unique velvety finish.
Pros:
Dries quickly
Lasts for days
Beautiful colors
Cons:
Some customers reported that the colors they received did not match color swatch.
Personal note:
I purchased this polish in the Molten Mauve color featured and I Love It!! I applied it in 2 thin layers and let each layer completely dry before applying the next and got full coverage. You cannot "play" with the polish when applying like you can with regular polish because it dries pretty quickly; within seconds you can see it starting to show the Matte finish – fun to watch! The wide brush applicator is perfect to help cover the nail with the least amounts of strokes possible for a smooth finish. On day 3 I only experienced normal tip wear that I usually get from lacquer polishes. I applied another thin coat and they looked like new again and lasted another 3 days. I will purchase again.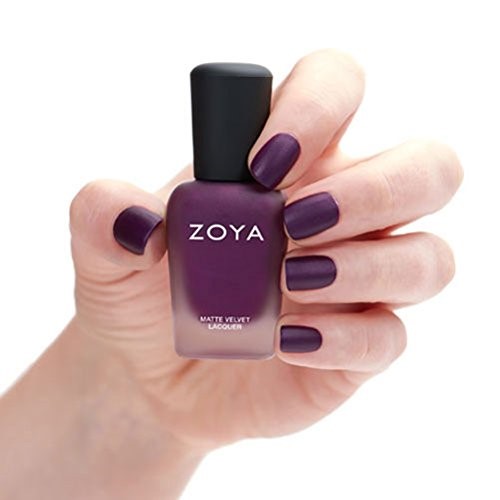 4 out of 5 stars 1,870 ratings (not all reviews were for Matte. However, I filtered the reviews to only the Matte colors listed)
Zoya MatteVelvet collection features 6 colors to choose from.
Amal MatteVelvet (Crimson Red) w/touch of sparkle/glitter
Aspen MatteVelvet (sparkling Artic White)
Iris MatteVelvet (shown – deep Amethyst)
Honor MatteVelvet (Emerald)
Sue MatteVelvet (soft Champagne Gold)
Yves MatteVelvet (deep Sapphire)
Product Features:
Big 10 Free breathable formula
Polish spreads quick, even, and leaves itself streak free
Pros:
Great quality
Smooth, velvety finish.
Beautiful colors and coverage
Fast drying
Durable with little chipping
Cons:
Some customers reported the color didn't last long or not as expected
4.6 out of 5 stars 59 ratings
Kupa GelFinity Gel Matte Top Coat-Soak Off
Product features:
Matte finish that will not fade, chip or peel
1/2oz. Bottle.
Cures to a no-wipe finish.
Pros:
Makes your polish super matte
Stays matte for a full week before needing a fresh coat
Long lasting
None of the reviews indicated that chipping was an issue
Cons:
Some customers reported that this burns if it gets on skin when curing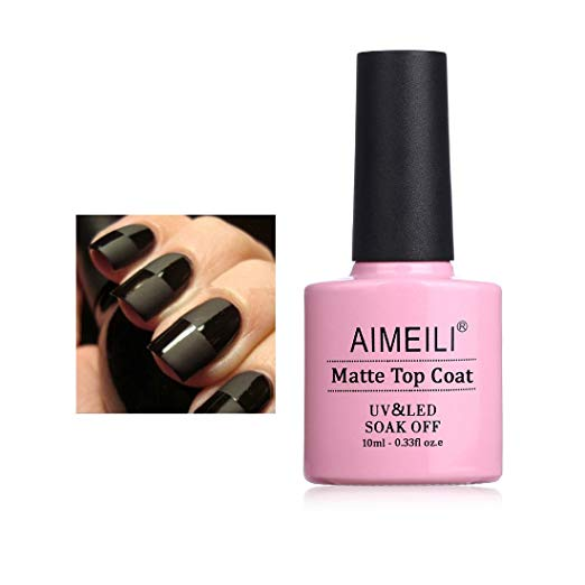 4.5 out of 5 stars 73 ratings
AIMEILI Soak Off UV LED Gel Nail Polish – No Wipe Matte Top Coat
Product features:
Requires drying under UV or LED Lamp.
21 days high-gloss wear.
On like polish, Wears like Gel, Off in minutes.
No Nicks, Chips or Smudges.
Goes on smooth, matte finish, no need to wipe the matte top coat.
Pros:
There is no tacky layer; no need to wipe with alcohol!
Beautiful matte finish
Great quality for its price
Long lasting
Easy to apply
Cons:
Needs two coats for matte effect
Burns while curing if it gets on your skin
Some report a finish that was more Satin than Matte
4.5 out of 5 stars 93 ratings
LAQUE'D by LAQUE Gel Matte Top Coat
Product features:
Matte Top Coat by Laque Nail Bar in Beverly Hills
Long Lasting Top Coat
Beautiful picture perfect finish
Apply Thin Coats
Wipe with alcohol after curing time to see beautiful matte nails
Pros:
Great true Matte finish that does not fade to satin
Velvety texture
Streak free
Long lasting
Generous 0.5 FL bottle
Cons:
Pricier than other brands
Some LED users report issues with product not curing and turning out patchy
Great Values! Check out these 3-Packs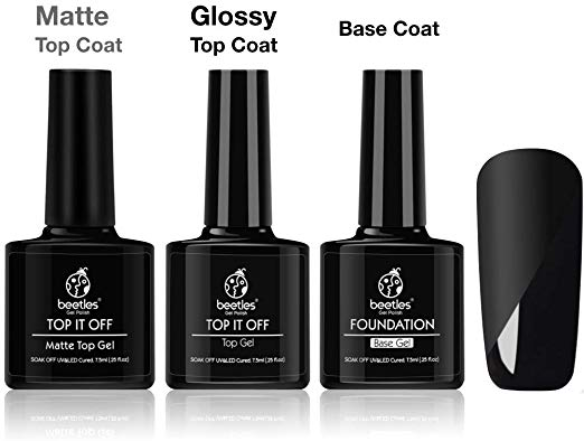 4.1 out of 5 stars 174 ratings
Beetles Matte Top Coat and High Gloss Top Gel Coat and Base Coat Set
Product features:
3-Pack of No Wipe Matte, Glossy Top coat and Base coat.
9 Toxin Free formula, easy and safe to apply.
Flexible gel top coat avoids nicks, chips or smudges.
High Compatibility with ALL BRANDS Soak-off Gel Nail Polish.
Long Lasting
7.5ml Each Bottle
Pros:
No wipe feature
Receive 3 bottles of top coat polishes
Matte polish looks great and has a smooth finish
Easy to apply
Long lasting finish with few reviews mentioning issues with chipping
Company guarantee a fast replacement or refund service if you experience issues with the polish.
Cons:
Some customers reported product gets hot during curing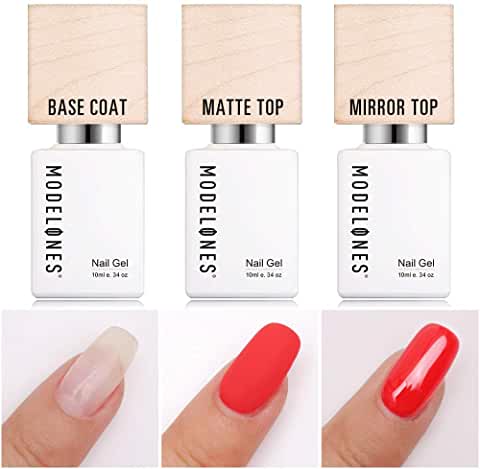 4.1 out of 5 stars 115 ratings
Modelones
Product features:
3 pack that includes:
Upgraded Base Coat
High gloss Shiny
Matte Effects
High compatibility with other polishes
Item is returnable (read full return policy)
Pros:
Customers love the no wipe feature
Great Matte finish with a velvety feel
Long lasting; doesn't leave white marks or chips (up to a week or so)
Application is easy and glides on smooth
Positive reviews for both base and shiny gloss polishes
Overall, most customers really liked the shape of the bottles
Cons:
Some reported delivery issues; missing or broken items
3.5 out of 5 stars 24 ratings
ella+mila Nail Care, Matte Top Coat – Matte-ly in Lov
Product features:
Matte-ly in Love
Products do not contain: Formaldehyde, Toluene, DiButyl Phthalate (DBP)
Vegan & Animal cruelty-free
Made in the USA
ella+mila polishes are certified by PETA!
Pros:
Customers appreciate that it is 7-Free
Dries fast with no streaking
Lasts a long time without chipping
Cons:
Very small brush
Most negative reviews were from customers that did not like the matte finish look
Personal Note:
I decided to purchase this top coat, but have not yet tried it. I will update post once I have used it.
4.4 out of 5 stars 1,151 ratings (not all reviews were for Matte. However, I filtered the reviews to only the Matte top coat)
Sally Hansen Treatment Big Matte Top Coat
Product features:
Extreme matte finish
Enhances and protects your manicure
Quick-drying
Pros:
Inexpensive way to try a Matte finish
Smooth, consistent matte finish
Easy to apply
Cons:
Matte finish lasts several days then fades to satin look
Takes longer to fully dry than stated
Finish chipped after several days
Leaves white looking streaks on your nails
4.2 out of 5 stars 1,074ratings (not all reviews were for Matte. However, I filtered the reviews to only the Matte top coat)
OPI Nail Lacquer Matte Top Coat
Product features:
Smooth, matte finish
Seals in the color to prevent scratches and chipping
Provides up to 7 days of wear
Prevents smudges
Pros:
Can be applied on top of gel manicures after curing
Great matte effect
Easy to apply
Dries fast
Lasts long
Cons:
Top coat doesn't help the polish last longer
If applied to thickly, it will pull off some of the color coat
Best used on darker shades of polish
3.7 out of 5 stars 233 ratings
China Glaze Matte Magic Top Coat
Product features:
Turn's Any China Glaze Nail Polish From Shiny To Matte
Professional 440-Strand Brush For Ease Of Application
Free Of Dbp, Toluene And Added Formaldehyde
Pros:
One coat coverage
Smooth application
Matte effect stays on for about 3-4 days
Cons:
Strong smell and polish is not clear
Small bottle (.325 fl oz)