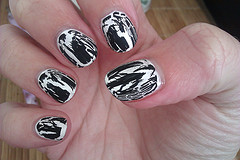 Crackle polish is SO much fun and there are endless color combinations! Unfortunately many brands have discontinued their lines of crackle polish so I have spent time digging around to help you find where you can buy this fun polish online. Checkout the guide I created for you below on where you can buy crackle nail polish, brand reviews, the best way to apply it, great color combo ideas and more. It's time to get crackling!
Crackle Polish Brand Reviews
OPI Shatter Polish
OPI constantly releases really fun nail polish lines with great themes and partners with celebrities such as Niki Minaj. Overall I absolutely love OPI Shatter because it creates more crackles than other brands. OPI is thicker so you have to be careful and not apply too much or your nails will turn out clumpy. Simply apply a thin coat and you will have a perfect crackle manicure! Watch the awesome demo video below to see what the color swatches look like in real life and how to apply the polish!
| Silver Shatter | Gold Shatter | Turquoise Shatter | Blue Shatter | Black Shatter |
| --- | --- | --- | --- | --- |
| | | | | |
China Glaze Crackle
China Glaze's Crackle Glaze line had some of the most fun color options and even includes pastels which are great for spring and summer! It is the thinnest crackle topcoat that I have tried as it is slightly watery. This consistency actually makes it one of the easiest crackle polishes to apply. The bottle also doesn't dry out as fast as some other brands. You'll want to apply a thicker shiny topcoat to give your nail a smooth finish! To see what the colors look like when applied check out the video below!
| Tarnished Gold | Fault Line Purple | Black Mesh | Glitter Crackle Set | Crushed Candy |
| --- | --- | --- | --- | --- |
| | | | | |
Sally Hansen
Sally Hansen is a great discount option if you are careful with how you apply it. It is a thicker polish and the brush is pretty small, making it a little difficult to apply. It's not too difficult as long as you know going into it that you need to be careful with applying it thinly!
How to Apply Crackle Nail Polish
1. Purchase a crackle/shatter polish and pick your base color:
I recommend picking two colors that contrast very well. A dark color will always look good with a light color. Or you can pick any two colors that are opposite of each other on the color wheel and they're guaranteed to pair well!
2. Apply a really good base coat:
This step is an absolute must! A high quality base coat will keep your manicure chip free for at least one week, which will make the time you took to perfect your crackle manicure totally worth it!
3. Apply a solid color of nail polish:
Apply one or two coats of a base color that looks good with the color of your crackle polish. It's best if you choose a smooth polish but you can go with glitter or another texture, but it might affect how well the crackle look comes out. Wait at least 5-10 minutes for the base coat to dry. If you're impatient like me, make sure you're by a TV to keep you entertained so you don't smudge it or apply the crackle layer too early.
4. Apply your Crackle/shatter polish over the base color: 
Paint a thin coat of the crackle polish evenly and quickly. Do not layer it on too thickly or it will clump, and also avoid any second layers or going over a spot again. The thicker the coat is applied, the bigger the cracks turn out. (Bigger cracks mean less cracks so it looks like you just messed up a normal manicure)
5. Watch it Crackle: 
This is the fun part!! The polish will actually shrink after it is applied which is what creates the crackle effect. You get to watch the polish shrink in front of your eyes and it normally takes less than 5 minutes for your nails to completely crackle. Be patient and let it completely dry before applying a top coat.
Crackle Color Inspiration
If you use a shimmery/psychadellic color coat then it will give your nails a fun mirror look!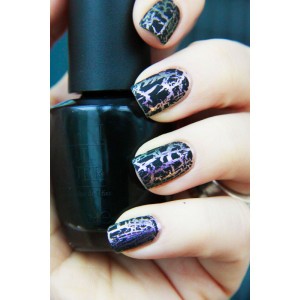 Light colors like this light pink look great with a glittery silver! A pale green or blue would also look really pretty with this OPI Shatter Silver! Coral and silver or Navy and Silver would look really great for Summer and would give it a nautical look.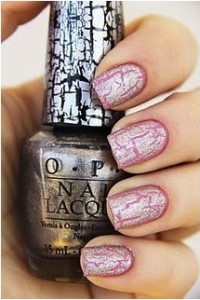 If you are a neon person and like that flash of color, these are some great base colors for you to pair with black crackle. I like the pink and black and the white and black pairings the best!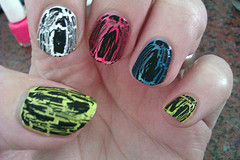 Turquoise and charcoal gray are a classic color combination!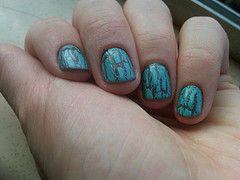 Photo by HeatherHeatherHeather