What is Holographic Nail Polish?
Looking for a novelty polish with a fun look for those special occasions? Then check out the unique brands that are classified as Holographic nail polish and Multichrome nail polish. I can best describe these polishes as iridescent, and the array of colors that are produced with the play of light on them creates fascinating effects. Understanding this type of polish can also be a bit confusing with so many terms out there associated to describe them; holographic, holo, multichrome, prism, linear and scatter, particle sizes, sparkle, glitter, shimmer, metallic and flaky. So what makes these polishes so special? The scientific explanation can be found online if you are interested in checking it out (spoiler alert: diffraction and interference are involved). After reading up on it though, I realized that I'm not so concerned about classifications…I'm just loving picking the colors I like! One thing is for sure; your nails will be noticed and commented on!
ILNP Review

There are several holographic nail polish brands that are available. After looking through all the brands, the one I chose to order from is I Love Nail Polish – ILNP. They have some of the most amazing Holographic nail polishes that I've come across and arrived in the most adorable display box!
Nail polish swatches do not do justice to the amazing spectr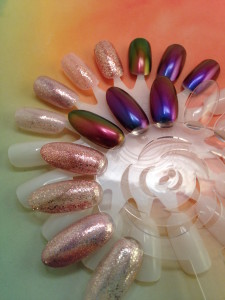 um of colors that you will experience with holographic and multichrome polishes, so a certain amount of trust will be necessary. However, here is my attempt to capture a hint of what you can expect in these swatches. An added benefit is that ILNP are vegan (cruelty free), 3-free polishes. While some feel that these types of polishes are a bit pricey, ask yourself this…how much did you just spend on your last two trips to Starbucks?? Puts things in perspective, huh?
After agonizing over all of the beautiful selections, I chose 5 different colors.
Holographic, Metallic Nail Polish
Because I like pink, the two colors I purchased are Juliette and Pink Mimosa.
Indoo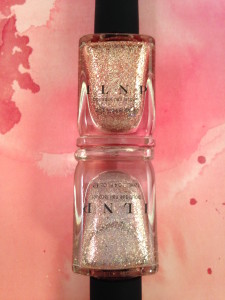 rs, the play of light on the polishes is beautiful and you can see the depth and dimension of the different colors. Walk outside in the sun and you will be stopped dead in your tracks ~ BAM! I cannot begin to describe how this polish transform into anything you have seen before! No matter how many pictures you take to try to show the explosion of sparkle, you cannot truly capture the mesmerizing effect this polish produces. This is also a great polish to layer over other polishes in your arsenal for a completely new look. Don't be surprised to find your fingers wiggling on your steering while driving as well (true story).
Multichrome Nail Polish
This pol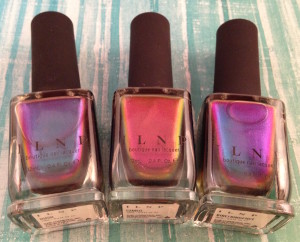 ish challenged me to step out of my comfort zone when it comes to colors, but I'm so glad that I did! I selected Cameo, Hush and Birefringence to try out. Warning…prepare to have random people comment on your nails! When ILNP says "color shifting at every angle", they mean it. The colors are incredibly vibrant. You seriously cannot move your hand without the polish morphing into a new color and it is mesmerizing. You have to check them out. Next purchase…purples!
Overall: Coverage was great for all polishes with 2 coats and wears well. I used my CND Vinylux weekly topcoat and was able to get 4 – 5 days before the tips were thinning.
Holographic polish brands
Most of the popular lacquer polish brands on the market have their own version of holographic polish. The ones that have a good selection to chose from include:
ILNP: with over 100 colors to choose from, you are sure to find that perfect fit!
Color Club: has two collections in this category
19 Halo Hues (7 are new ones)
7 Oil Slick (resembles multichrome) colors
Kleancolor: 6 3D Duochrome colors
Zoya has Holographic, Metallic Duochrome and Multichromatic oil-slick polishes.
6 holographic options offered in their Jelly collection
Individual Polish names I identified in the other two categories include: Happi, Reece, Adina, Zara, Ki, Jolie, Aggie (holo) and Juno.
Seriously, check these amazing polishes out!