What is Gelous Nail Gel?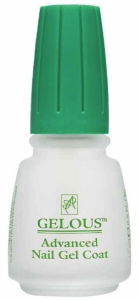 Gelous Nail Gel is a keratin-rich base coat nail polish that bonds directly to the nail to provide protection, strengthening and help your nail polish last longer without chipping. It is not the same as other gel or shellac products that require UV/LED lamps, last for 2 weeks and are a pain to remove. This is a base coat that extends the life of your manicure for about a week. If you are doing manicures at home and wonder why your nail polish chips so much faster than compared with your manicures from the salon, it's because you're skipping the step of applying a high quality base coat like Gelous Nail Gel.
Benefits:
Protects the nail
Makes your manicure last longer
Adds shine
Increases thickness
Review:
This truly is a great product and lives up to its claims. Apply a thin coat evenly and give it 10 minutes to dry and you will be ready to apply a coat of color polish. Do not apply it as a topcoat because it will leave your nails feeling very sticky. It is a miracle product for women who have problems with their nails breaking, splitting on the edges or cracking. The protein rich coating helps create protective barrier on your nail to strengthen it and even help with nail growth. It definitely adds visible thickness and leaves you with very healthy looking nails. If you're looking for a reliable base coat then you should definitely get Gelous Nail Gel as it is extremely valuable and relatively cheap.