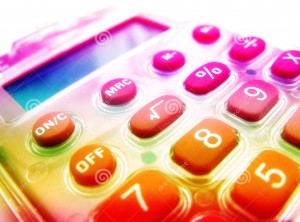 I love the feeling of leaving a salon with freshly painted nails but I unfortunately don't have the money or time to spend several hours getting my nails done every other week. I was spending $25-$35 plus tips for each visit to the salon. Thirty-five dollars here and there doesn't seem too bad, but when you look at the cost over one year it's shocking – 2 salon visits per month translates to $840 per year!!
And…this does not include what's saved by also doing your own pedicures since most likely, you will do both at the same time! Based on a charge of $65 for a mani/pedi combo, this savings can quickly morph to $1,400 or more. Sounds like a pretty nice vacation trade off to me!
After spending $150 on a nail lamp and nail polishes, I saved $690 over the last year by switching to DIY nails!! I can now do my own gel/shellac manicures at home in less than 30 minutes and the manicure lasts without chipping for 2 weeks.
Use this handy DIY manicure cost savings calculator tool to see how much money you can save by going DIY.
[CP_CALCULATED_FIELDS]
Tips for Saving Money and Making DIY Nails Easier
If you can't go cold turkey and stop nail salon visits completely, start by replacing one salon manicure a month with a DIY manicure
Choose a reliable and professional nail lamp – they can last up to 10 years!
Use gel/shellac so you only have to do your nails twice per month (but give your nails a break for a few days in between gel manicures)
Look online for supplies- you can often find wholesale prices on Amazon and other sites
Get a nail corrector pen to clean up nail polish when you accidentally "draw outside the lines" and get polish on your fingers when you try to paint the sides of your nails
Multitask by doing your nails during family TV time
DIY Gel Manicure Resources: