This is a very popular question… what's the difference between Shellac and Gel? This guide will explain the differences between Shellac and other Gel Brands.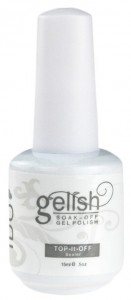 The quick answer is: Shellac and Gel are essentially the same, Shellac is just the brand name that CND picked for it's polish line just like Harmony picked the clever name Gelish. Shellac has almost become synonymous with gel because it is one of the top gels and is the top pick for many salons.
However, there are definitely differences in the formulas that each manufacturer uses in the gel polish which is why certain brands last longer. Gels typically come in systems with three coats so you need to apply the gel base coat, color coat and top coat and cure each coat under a UV or LED Lamp for the manicure to last 2+ weeks. Many manufacturers make their own specific UV or LED lamps that they claim are the best for their gel brand (wondering what the UV/LED difference is? Check out this post). Although, I use a UV lamp for multiple brands and it works perfectly! Overall, I find that Shellac lasts longer than other brands like SensatioNail.
How is Gel Polish Different than Normal Nail Polish? 
| Comparison | Gel Polish | Normal Nail Polish |
| --- | --- | --- |
| Durability | 2+ Weeks | Less than 1 week |
| Average Price | $10.00-13.00 | $4.00-$7.00 |
| Drying Time | None | 20+ Minutes |
| Ease of Removal | Difficult | Very Easy |
| Oder | None | Strong |
| Texture | Thicker, Harder & Shinier | Thinner and closer to natural nail feel |
Checkout two of the top gel nail polish best sellers on Amazon: